Vingerafdrukscanner iPhone 5S gekraakt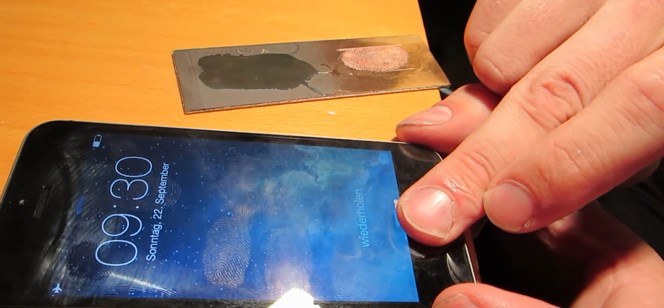 De vingerafdrukscanner van de iPhone 5S is door Duitse hackers gekraakt. Leden van de Chaos Computer Club (CCC) slaagden er met een kopie van een vingerafdruk in om het nieuwe toestel van Apple te ontgrendelen.
Volgens de hackers is de beveiligingsmethode van iPhone 5S niet zo robuust als Apple doet voorkomen. In een persbericht stelt CCC dat 'Apple een hoop onzin heeft verkocht over de nieuwe technologie, maar dat het in werkelijkheid niet meer is dan bestaande sensoren met een hogere resolutie dan voorheen het geval was.' Het enige dat de Duitse hackers hoefden te doen was de resolutie van de nagemaakte vingerafdruk verhogen en dat bleek dus succesvol.
Video: iPhone 5S TouchID gekraakt
Bij het namaken van een vingerafdruk komt overigens nog behoorlijk wat werk kijken, maar volgens de CCC zijn bijna alle benodigdheden te vinden in een normaal huishouden:
The method follows the steps outlined in this how-to with materials that can be found in almost every household: First, the fingerprint of the enroled user is photographed with 2400 dpi resolution. The resulting image is then cleaned up, inverted and laser printed with 1200 dpi onto transparent sheet with a thick toner setting. Finally, pink latex milk or white woodglue is smeared into the pattern created by the toner onto the transparent sheet. After it cures, the thin latex sheet is lifted from the sheet, breathed on to make it a tiny bit moist and then placed onto the sensor to unlock the phone. This process has been used with minor refinements and variations against the vast majority of fingerprint sensors on the market.
Mocht je door dit nieuws je vingerafdruk niet meer vertrouwen, dan zou je ook je tepel, neus of tenen kunnen gebruiken om je iPhone 5S te unlocken. Althans, als we de video's van RocketNews24 mogen geloven…
Video: iPhone 5S TouchID teenkaaseditie
Comments