De 7+1 leukste iPhone 6 #bendgate-inhakers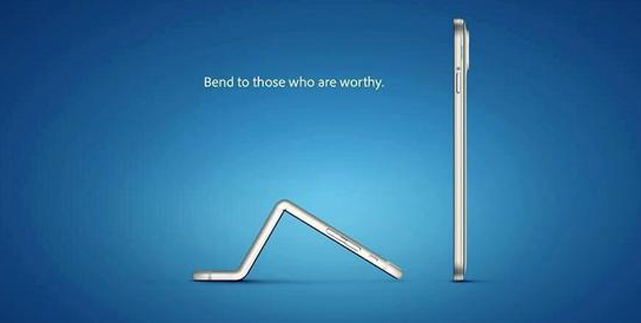 Geen beter vermaak dan leedvermaak. Dat blijkt wel uit de vele reacties op het nieuws dat de iPhone 6 een 'buigprobleem' heeft. Merken buitelden over elkaar heen met grappige #bendgate-plaatjes, tweets en andere gekkigheid. En dan niet alleen 'relevante' concurrenten zoals LG en Samsung, maar ook biermerken die een graantje mee wilden pikken. We zetten de leukste inhakers op een rij.
1. LG (Dat is de bedoeling, vriend)
Our phone doesn't bend, it flexes…on purpose. #bendgate pic.twitter.com/d1DudxDQgf

— LG USA Mobile (@LGUSAMobile) 24 september 2014
2. Samsung (Shaken, not stirred)
Curved. Not bent. #GALAXYNoteEdge pic.twitter.com/OTPIYlI07f — Samsung Mobile (@SamsungMobile) 25 september 2014
3. Samsung (niet officieel)
Samsung react to #BendGate on #iPhone6plus #advertising pic.twitter.com/KnHkyU6HO3

— Simon Sugar (@Amscreen_Simon) 25 september 2014
4. HTC (braafste jongetje van de klas)
Designed to withstand the most demanding environments. Like your pockets. #HTCOneM8 — HTC USA (@HTCUSA) 24 september 2014
5. Nokia (Grappige Duitsers, OMG)
Nicht mal auf Biegen und Brechen. #unBENDable #bendgate http://t.co/XvwsR2iFdC

— Nokia Deutschland (@NokiaHomebase) 25 september 2014
6. KitKat (Meeliften waar je meeliften kunt)
We don't bend, we #break. #bendgate #iPhone6plus pic.twitter.com/uippCg4kCi — KITKAT (@KITKAT) 24 september 2014
7. Heineken (Nederlandse inhaker, altijd +1)
Dear Apple… #BendGate pic.twitter.com/XJ8zVEUog9

— Heineken NL (@Heineken_NL) 25 september 2014
7+1. KPN – niet #bendgate, wel geslaagde iPhone 6-inhaker.
Bonuskudo's voor KPN, die een kleermaker hebben geregeld om je broekzak groter te maken.  
Briljant! @KPN kleermaker vergroot je broekzak voor IPhone 6 Plus. In de roos als je het mij vraagt! pic.twitter.com/DCb5yJSSYQ

— Guus Pennings (@GuusPe) 26 september 2014
Comments